Although it has many advantages such as having a lead and playing over people. But MU takes 120 minutes to beat Norwich to win tickets to the FA Cup semi-finals.
Manchester United entered the FA Cup quarter-final against Norwich City with enthusiasm. Although more appreciated, the Reds cannot win easily. It took them two extra time to defeat the opponent, in one day Norwich goalkeeper Tim Krul played too well.
First half Norwich chose a tight defensive position and waited for a counterattack. Meanwhile, Manchester United soon took the initiative and constantly put pressure on the opponent.
However, MU continued to show weaknesses on the wings, especially the position of Jesse Lingard. The England international showed poor form and it seemed he needed to find a new club in the next transfer window.
Meanwhile, Odion Ighalo continues to show enthusiasm for the Reds when continuously playing around in attack. However, he could not help MU get the lead in the first half and the two teams entered the break with a score of 0-0.
Ighalo did not take too long to make a mark as soon as the second half began. Just over 5 minutes, after the cross of Luke Shaw, Norwich defenders were attracted to Juan Mata and left Ighalo.
After taking the lead, Ole Gunnar Solskjaer began to change the squad to increase the pressure to increase the gap. The Norwegian strategist took Brandon Williams, Marcus Rashford and Mason Greenwood in turn, replacing Diego Dalot.
Immediately, the Nigerian striker cleverly hit the ball and shot the shot close to the city. He beat goalkeeper Tim Krul to open the score for the match.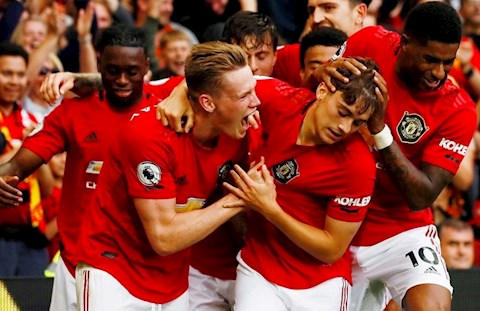 However, when trying to pressure the opponent, MU's defense showed many loopholes. MU defense to Todd Cantwell comfortably beat Sergio Romero and bring the match to the starting line.
By the end, the MU has an advantage over people. Ighalo continued to make a mark with a strong breakthrough. Despite the lead, but the excellence of Tim Krul made MU unable to solve the match in the 2 main periods. And the two teams must enter extra time.